Christina's Christian Creations
Product Ingredients**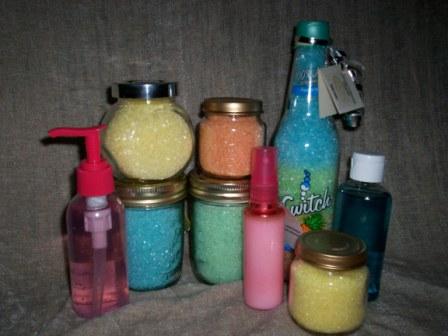 About Bath Salts, Body Butters & Sugar Scrubs:
With the exception of the food grade coloring in some of the bath salts, I use nothing artificial or synthetic. If you think these ingredients seem simple--you're right. I was so tired of purchasing products which contain artificial ingredients (that I can't even pronounce!) so I decided to make my own products. Granted, the production costs a bit more, but it's worth it!
About Pillow Mist, Antibacterial Hand Wash & Hand Sanitizer:
The products contain natural and man-made ingredients along with pure essential oils.
Bath Salts
Magnesium Sulfate (A natural mineral salt)
Food grade Color
May Contain: Natural powered milk and/or powdered oatmeal
Sugar Scrubs
Natural Cane sugar
Olive Oil
Jojoba Oil
100% Pure Vitamin E
Pure Essential Oil
Pillow Mist
Distilled Water
Fabric Softener
Pure Essential Oil
Body Butter
Pure Cocoa Butter
Olive Oil
Jojoba Oil
Sweet Almond Oil
100% Pure Vitamin E
Natural Bees Wax
Pure Essential Oils
Some combinations contain a hint of Grapeseed Oil
Hand Sanitizer
Hand Sanitizer: Ethyl Alcohol, Carbomer, Glycerin, Isopropyl Alcohol, Isopropyl Myristate, Propylene Glycol
Pure Essential Oil
Food Grade Color
Antibacterial Hand Soap